Suncatcher Solar and Energy Management



A 20% rebate and up to 12% rate of return make the Net Metering Program an attractive Grid-Tied option for Saskatchewan homes and businesses.

Off-grid and backup systems provide power with energy storage where or when utility power is not available.

Achieve major savings on your business's SaskPower bills, with a payback period of 1 – 3 years.

We offer free assessments for energy management solutions such as demand charge reduction, LED lighting and solar options.

Our founder lives in a grid-tied (formerly off-grid) solar home near Saskatoon. Our team of engineers and electricians have decades of combined experience.

We provide a start-to-finish service,  including system design, installation, commissioning and follow-up.
Making Saskatchewan a Better Place
At Suncatcher we like to be involved in projects that make our community a better place. We've been fortunate to be involved in projects like the SES Solar Co-op and Saskatoon SPCA. We are also proud sponsors or the Saskatoon SPCA after working with them on their award winning project.
SES Solar Coop
The Two Twenty building, in downtown Saskatoon, is part of the Saskatchewan Environmental Society's (SES) Solar Coop. If you aren't able, for whatever reason, to install a solar power system of your own, you can still be a part owner in a solar energy project.
This time lapse video, from the Two Twenty solar installation, shows an effective solar mounting option, with no roof penetrations, for flat commercial roofs. If you're interested, you can also view the live internet monitoring for this project.
Saskatoon SPCA – Saving Power Helps Save Pets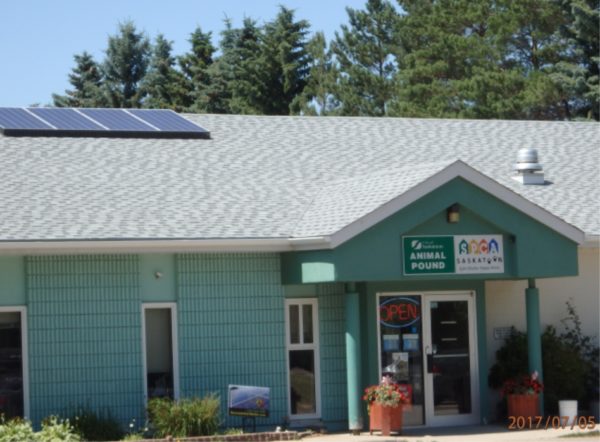 A hundred solar panels on the Saskatoon SPCA roof produce significant savings on the shelter's operational costs and that money can be put towards saving more animals.  The large solar array provides power for lights, medical equipment, ventilation, computers and all the other equipment necessary to keep an energy intensive operation like the SPCA going. The solar power system has generated over $2000 in savings in the first four months of operation.
You can see the performance and environmental benefits of this major project via Live Monitoring.
The Saskatoon SPCA Solar Power Project won the Rob Dumont Energy Management Project of the Year Award.  We are incredibly proud to have been part of this project and to give back as an SPCA sponsor.
 For a free assessment or estimate,