Solar Power in Saskatchewan
A 20% REBATE for your initial Investment in Solar Power
is available from SaskPower until November 30, 2016
GENERATE SAVINGS EVERY MONTH  
Solar power – the environmentally friendly solution to producing your own electricity – is now also the least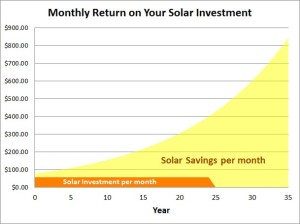 expensive source of electricity for SaskPower customers.

For a typical home, solar power would cost 9 cents per kWh.  The cost of electricity supplied bySaskPower is12.6 cents per kWh – this includes the GST which you do not pay on your own sun-generated power.
Solar equipment for grid-tied systems has a 25 year warranty.  In 25 years the cost of coal power could easily quadruple – but the cost of sunlight will not.   
Instead of paying the power company, invest in your own solar power system and see your savings grow.