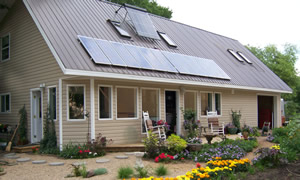 The wide open main floor plan, abundant south windows and high vaulted ceiling add a feeling of light and space to this compact design.  This plan features over 1400 square feet of living area on the main and upper floor and an attached double car garage.
Buy this Home Plan and receive a
Free Customization Package (valued at $625)
Email angie@suncatchersolar.com to arrange for your free customization.
Construction Drawings:  $995.00
DRAWINGS INCLUDE:
3D view
construction details
foundation plan
elevations and sections
window & door schedule
We would be happy to customize the plan for you – please contact us for pricing.
You will need to submit your own site plan and any local engineering requirements for your building permit.  Copyright for the plans belongs to Suncatcher Solar Ltd.
Study Set:  $29.95
Buy a Study Set to see plan details, such as elevations, floor plans and room sizes – without the cost of a full construction set.  You can plan changes you would like to make, prepare preliminary construction estimates and see how the plan will fit your building site.   When you buy the study set you will receive a coupon that you can use as credit against the purchase of the construction drawings.
Plan Description
Bedrooms:  2
Bathrooms: 2
Total Square Footage:  1412
Finished Square Footage:  1412
Garage:  attached double garage
THE INTERIOR
The main floor is only 764 square feet, but seems much larger.  The wide open, living / dining / kitchen area spans the entire south side under a high vaulted ceiling with two small skylights for extra light.  South and west windows offer a panoramic view.  A family room in the northwest corner can double as a spare bedroom.
The versatile upper floor spans the north half of the house, extending across the garage.  This adds space for a large master bedroom with luxurious ensuite that includes a jet tub.  A second bedroom opens off the landing which overlooks the living and dining room below.
ACTIVE SOLAR COMPONENTS AND HEATING SYSTEM
The original Westview home was designed with in floor heating supplied by an on demand natural gas boiler supplemented by a small 20 tube evacuated tube solar hot water system.
The solar power system was designed as an off-grid system but has grid backup.  The reason for this design is that the owner wanted independent power and Saskatchewan did not yet offer a net metering program.  With a 1.224 kW solar array and a large battery bank to provide up to 3 days of reserve power, the solar power system is sufficient for energy conscious operation of the home.  Instead of the backup generator normally required with an off-grid design, this home has backup from the electrical utility that was already on site.
GREEN ELEMENTS
This plan features passive solar and energy efficient design that provides free solar heating in the cold season and protects from overheating in the summer.  Green design elements include:
Appropriate window ratios for south, east, west and north walls for natural light and heat in the winter months
Suitably sized overhangs, balconies or awnings on the south, east and west sides to keep the house cool in the summer
Design allows for many insulation and radiant barrier options
Adequate roof space for active solar components
With appropriate construction methods, this design has the potential to qualify for various energy efficient standards such as Energy Star.
CUSTOMER COMMENTS:
"We have fallen in love with the place since we moved in."
FLOORPLAN:
Main Floor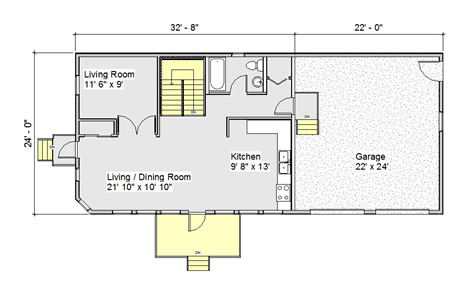 Loft