Energy Management for Businesses
Save money on your energy bills and improve one aspect of your environmental impact.
We offer a few energy management options for businesses to achieve energy savings.
Free Assessment and Estimate
Power Factor Correction
LED Lighting
Solar Power Systems
What Does the Assessment Include?
In the assessment we look at what is drawing power (appliances, lighting, etc) and what can be done to reduce the energy draw. We can instrument your electrical service and determine the power factor. If appropriate, we can then design, supply and install power factor correction capacitors to improve a lagging power factor. If you are interested, we will also look at whether a Solar Power system would suit your needs. Once we've determined what measures would work for you, we can provide a free estimate of all materials, labour, etc.
Power Factor Correction:
Reduce the Demand Charges you see on your Power Bill
If you run a commercial business, you probably have demand charges on your power bill. Demand charges are a separate rate that you pay, which is based not on the total kWh you use per month, but on your peak usage. Saskpower needs to have the infrastructure and energy stores in place to cover your business (as well as all their other customers) at your maximum energy needs. To cover the expense of that infrastructure, utilities place demand charges on businesses with peak demands above 50 kVA/month. If your business uses above 50 kVA at any time during the month, you are paying demand charges. By implementing Power Factor Correction, our electricians can reduce the amount of energy you draw in your peak times, and lower the monthly demand charges on you bill.
SaskPower Demand Charge Rates
The average payback  for a typical power factor correction investment is 1 to 3 years.
Power factor correction is often used to reduce demand charges and save money. If you think it could be a good fit for you, give us a call or get in touch through email and we can discuss it with you. We'll help you determine if it can reduce the demand charges on your Saskpower bill. We are happy to explain how it all works and how we can help you save money.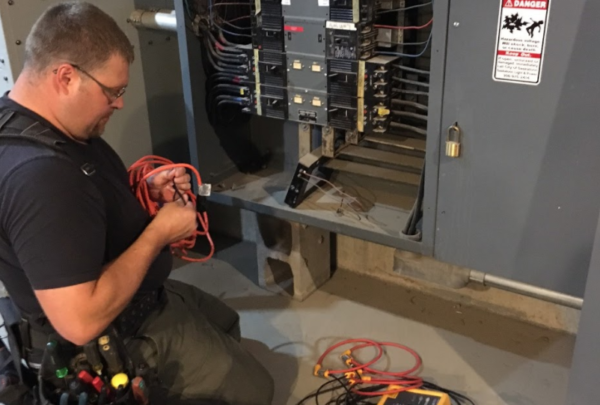 Please get in touch if you would like to know more about power factor correction.
LED Lighting
If your business needs to stay lit up most of the day – or a full 24 hrs a day – the cost if keeping the lights on can add up fast. LED lighting is much more efficient than incandescent, fluorescent or CFL. Our electricians are happy to change out your fixtures for energy efficient lighting, and do any wiring changes necessary to get the most efficiency out of your system. This is a perfect supplementary service that we can do for you while we are there implementing power factor correction.
Solar Power Systems
With your energy needs reduced through power factor correction, you may require fewer solar panels to power your business – reducing the cost of the system in a significant way. For more information about installing solar power, you can have a look at our grid-tied page.
Get a Quote for Power Factor Correction: