Energy Management for Businesses
We offer an energy management package for businesses. Our goal is to help you save money on your energy bills, and help you with one aspect of your environmental impact.
Free Assessment and Estimate
Power Factor Correction
LED Lighting
Solar Power Systems
What Does the Assessment Include?
In the assessment we look at what is drawing power (appliances, lighting, etc) and what can be done to reduce the energy draw. We can instrument your electrical service and determine the power factor. If appropriate, we can then design, supply and install power factor correction capacitors to improve a lagging power factor. If you are interested, we will also look at whether a Solar Power system would suit your needs. Once we've determined what measure would work for you, we can provide a free estimate of all materials, labour, etc.
Power Factor Correction:
Reduce the Demand Charges you see on your Power Bill
If you run a commercial business, you probably have demand charges on your power bill. Demand charges are a separate rate that you pay, which is based not on the total kWh you use per month, but on your peak usage. Saskpower needs to be able to have the infrastructure and energy stores in place to cover your business (as well as all their other customers) at your maximum energy needs. To cover the expense of that infrastructure, utilities place demand charges on businesses with peak demands above 50 kVA/month. If your business uses above 50 kVA at any time during the month, you are paying demand charges.
SaskPower Demand Charge Rates
Power factor correction may be a way that you can reduce your demand charges and save money. We can reduce the amount of energy you draw in your peak times, and lower the monthly demand charges.
The average payback  for a typical power factor correction investment is 1 to 3 years.
Too much Apparent Power means a large bill for Demand Charges!
Here are a few technical details for those who are interested. Power demand will be higher than it needs to be when the power factor is less than 1.0, which is the ideal power factor. Inductive loads such as transformers and motors cause the supply current to lag the voltage waveform. A measure of this lag is power factor. The greater the lag, the poorer (lower) the power factor. Power factor can be improved with the addition of power factor correction capacitors in cases where the power factor is lagging (most common).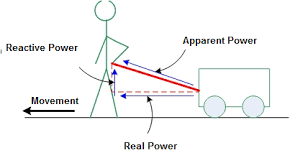 The farther out of phase the current and voltage waveforms are, the more current it takes to do a given amount of real electrical work. The graphic below is a representation of the Apparent Power (with out of phase current and voltage that reduces the power factor) and Real Power. If the Apparent Power is the same as the Real Power, the power factor would be 1.0.
Get in touch with us if you think that power factor correction could save you money on your Saskpower bill by reducing your demand charges. We are happy to explain how it all works and how we can help you save money.
LED Lighting
If your business needs to stay lit up most of the day – or a full 24 hrs a day – the cost if keeping the lights on can add up fast. LED lighting is much more efficient than incandescent, fluorescent or CFL. Our electricians are happy to change out your fixtures for energy efficient lighting, and do any wiring changes necessary to get the most efficiency out of your system. This is a perfect supplementary service that we can do for you while we are there implementing power factor correction.
Solar Power Systems
With your energy needs reduced through power factor correction, you may require fewer solar panels to power your business – reducing the cost of the system in a significant way. For more information about installing solar power, you can have a look at our grid-tied page.
---
Energy Management for Homeowners
Reduce your Energy Usage
For the foreseeable future, electricity costs are generally going to keep rising. It's easy to see how much you use over a period of time because that number appears on your electricity bill in kWh.
But do you know what the big users of electricity are in your home? Probably not with any certainty. Well, now you can find out with the addition of a small piece of hardware to your breaker panel, and by downloading an App.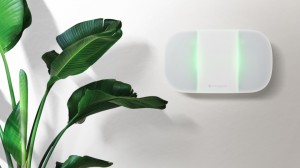 Suncatcher Solar offers Smappee Energy Monitors which will gather information on the usages of your major loads and appliances and display how much energy each one is using. Once you know your energy use behaviour, you can decide where you want to start saving energy (and money).
What does Smappee stand for? SMart APP for Energy Efficiency.  See your energy use on your smart phone and use Smappee's Smart plugs to control appliances directly from your phone.
Smapee Energy monitor   C$299.00
Save up to 30% on your energy bill
Track down the energy guzzlers and reduce your always-on power consumption
Control your appliances remotely via the app
Without any subscription fees
Hesitating? No need to: you have 30 days to change your mind and get a refund!

What's in the Box
1 Smappee monitor
2 current clamps
1 power cord 110V
1 Comfort Plug™ to control appliances remotely (wireless 433 MHz)
A quick install guide
Product Description
The Smappee energy monitor gives you real-time data on the electricity use and cost in your home. By measuring the power and voltage up to thousands of times a second, it always knows exactly how much energy you're using.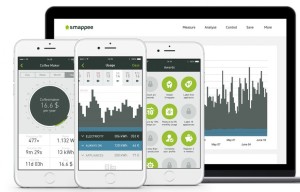 You'll get a complete picture of all readings in the free Smappee app on your smartphone, tablet or pc. The app shows you how much you consume and how much it costs you, in real-time and on a daily, weekly or monthly basis. It also shows you how much your always-on use accounts for, both in terms of kWh and pounds, euros or dollars.
By identifying the main appliances in your home, Smappee helps you to find out all about your energy behaviour. The itemized bill in the app splits up your total consumption by device. When you know exactly where your energy is going, you can start making smart choices.
You'll find out which appliances should be replaced by a more energy-efficient version. If your always-on use seems to be driving your energy bill through the ceiling, you can tackle that by turning off appliances that are in standby mode all the time. The best thing about it? Smappee can do all of this with one single monitor!
Suncatcher Solar stocks the Smappee energy monitor in Saskatoon.

You can pick one up in Saskatoon or we can mail it to you. Taxes and postage additional, if applicable.